We are a Proud Microsoft Global Training Partner
We help schools, colleges, and universities to realize the value of their investment in technology, helping educators to effectively integrate technology in teaching and learning to drive positive student learning outcomes.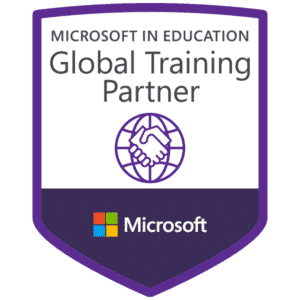 What a great inspirational training session from Esam. Great for teaching Modern foreign Languages but also for our Welsh Baccalaureate learners. I will also share this with my brother whose son is autistic - Immersive Reader will be great for him. Thank you very much! from
Excellent session, we have lots to learn! I can't believe we don't know about all the tools available in MS.
Best training, I have ever attended. I have been waiting for accessibility help for my own eyesight problem after losing an eye. This is a life saver.
This has really opened my eyes to some excellent tools for students and my own work! Wonderful!
Informative, inspirational and life changing
Super enlightening session, so many features to Microsoft 365 I was completely unaware of!
Transform Teaching and Learning using Microsoft 365
We specialise in contextualising Microsoft 365 (M365) within Teaching, Learning and Assessment (TLA).
Transform Education's core strength is in supporting and delivering training to schools, colleges, and universities in how they utilise Microsoft 365 for Education to enhance TLA.
Transform Education is a leading Educational Microsoft Partner and has assisted many schools, colleges, and universities in leveraging Micrsoft technologies to transform their teaching and learning environments and improve productivity and efficiency.
We have decades of teaching and learning experience and understand the pedagogy behind using technology.  We put teaching and learning at the heart of everything we do, and this is what sets us apart. Our training is delivered by outstanding and current practitioners who use these tools day in and day out.
Our extensive involvement in the sector has provided us with insights into the challenges educators face. Having faced these challenges ourselves, we know how to address them and how M365 and can help streamline and enhance processes.
Please click here to see our range of training sessions on offer
We can also offer customised training that's created to help your organisation realise the full potential of its technology.
Transform Education can help your institute realise its full potential using Microsoft 365!
Create engaging, interactive and accessible learning experiences using Microsoft 365 and Teams
We offer a wide range of sessions covering specific applications such as such as Microsoft Teams, Forms, Streams, etc, or themes such as assessment, accessibility and empowering the learner voice. We can deliver training either online or face-to-face and work with customers to bespoke sessions to meet the individual needs of their staff as well as the wider organisation.
All our workshops incorporate real-life examples of using M365 applications and hands-on exercises where participants learn by building resources and solutions that are directly applicable to their jobs.
"Interesting, the ability to actually hear how this works from a teachers point of view works well"
As a novice in the world of technology, I have been shown something that even I can use and will only heighten the learner experience overall.
Very informative and potentially extremely useful.
There was resistance along the way but by the end of session everyone had found something that they would find useful.
Mind-blowing possibilities for enhanced learning
A very useful and productive session that could change my pedagogical approach and philosophy by integrating digital tools into my teaching practice.
Opening up a world of possibilities.
"interesting to transform from sceptic to advocate"
I enjoyed finding out that so much exists out there to support students with disabilities to access the world of education. Having worked with visually impaired people in the past I have found it both amazing and inspiring.
"Everyone has a voice, even if you can't speak" - Esam Baboukhan